With swashbuckling escapades, piracy and intrigue, this out-and-out pantomime adaptation is a must!
"Ready for some adventure", says you? "Then heave to, me hearties, hoist the Jolly Roger and plunder that treasure", says I. "And if a blood-thirstier buccaneer than this one-legged pirate ever sailed the seven seas, it be the devil 'imself!"
Yes, piracy is big box-office these days – and audiences are bound to lap up this true panto version of the sea-faring classic, with all the time-honoured ingredients of traditional pantomime, but a modern slant on the storyline, comedy and characters. So, climb aboard for this fun-filled adventure and prepare to set sail for the voyage of a lifetime!
"But as for that treasure – well, sharing ain't my way, see? 'Tis every man for 'imself, by thunder!"
Full cast and scenery requirements are listed below
Many productions of this script have won NODA and drama federation awards, including Sparkwell Amateur Theatre Company, Devon.
"...
Overall I found this to be a charming, well written and amusing script that ticks all the boxes for a successful panto. If you're in the market for a particularly pleasing piratical panto then you need look no further than this offering from the prolific Alan Frayn." (Amateur Stage Magazine)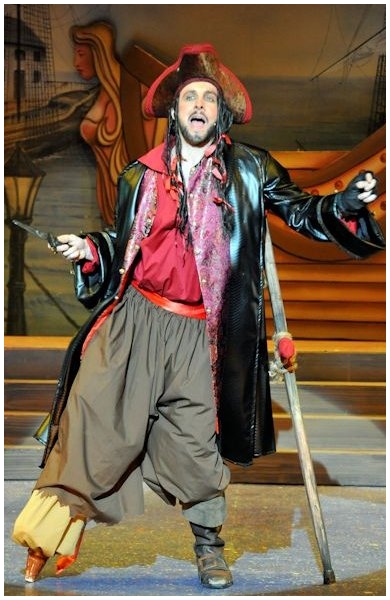 Mansfield HTT © Redbutton Photography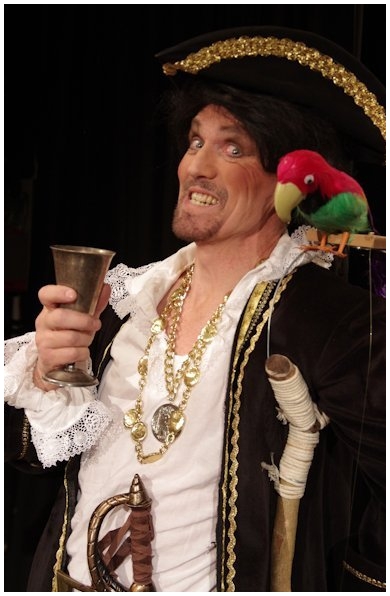 Wargrave Theatre Workshop
EXCERPT
from Act I Scene 6: A Pirate Parrot
© Alan P Frayn
Scenes
(Notes on simplified scenery are also included in the script)
AMATEUR STAGE MAGAZINE WROTE ...
"… Everybody loves pirates and so a pantomime full of them is almost guaranteed to be a crowd pleaser! Alan Frayn's version remains true enough to the source to make the story familiar whilst including all the ingredients essential to a good panto.
The dialogue throughout the script is snappy and smart. There is some very impressive word play in the Dame's early exchanges and an excellent running joke throughout about the size of her ample posterior! There is also a good amount of innuendo for the Dame to use. Audience interaction is very important in any panto and this script has ample occurrences of this. I particularly liked the page of suggested "ab-libs" for the Dame to use when getting the kids up on stage.
The settings required by this script are flexible enough to suit most societies, as are the casting requirements, with plenty of opportunity for gender mixing. I also liked the range of song suggestions by the author. Some scripts can be too prescriptive and others give no suggestions at all, but the author has obviously given this a lot of thought and those choosing to perform this panto will find that very helpful."