Robinson Crusoe & the Pirates
Action-packed, original and funny, this exciting new colourful version offers so much more …
For a lively, vibrant and fun-filled production, look no further than this ground-breaking pantomime version of Robinson Crusoe!
Buckle your swash and set sail with Robinson, Captain Seasalt and Nutty Nick into a world of adventure and hilarity. You'll meet a host of colourful characters along the way, together with a band of marauding pirates, offering great roles for the Chorus and three principals, Cut-Throat, Cross-Bones and Skull-Duggery.
Staging the opening scene in Brazil (unlike Hull, York or Plymouth in most other scripts) has the advantage of introducing tropical scenery, glitzy costumes and Latin music, not to mention our delicious Dame – Señorita Margarita Juicilita! It also offers the bonus of an exciting Mardi Gras Finale!
Don't be put off by the old-fashioned nature of other versions – pirates put bums on seats these days – and this is a great choice of pantomime, bound to "float your boat"!
Full cast and scenery requirements are listed below
Many productions of this script have won NODA and drama federation awards, including Leighton Buzzard Drama Group (NODA "Best Pantomime")!
We also offer a version of this script for schools or youth theatre groups (slightly simplified and with added lines for Chorus members). For a
Reading Copy
of this, please select Robinson Crusoe & the Pirates and specify "youth version" in the message box on the order form.
"...
This Pirates' pantomime is a real pearl of a panto in Alan P Frayn's Robinson Crusoe & the Pirates, packed full with swashbuckling action, damsels in distress, desert island cannibals and plenty of songs to sing along to. The characters embark on a journey of madness and mayhem from the plantations of Brazil to the depths of the ocean, on to a desert island and finally back to Brazil in time for Mardi Gras. The fabulously titled Senorita Margarita Juicilita as the saucy panto dame, her son, Nutty Nick, and the dim-witted pirates, Cross-Bones and Skull-Duggery, helped to make the show a pantomime treat for all the family!" (Felixstowe News)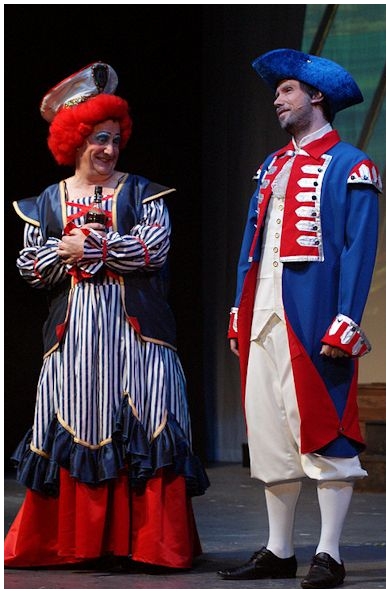 LIDOS, Leeds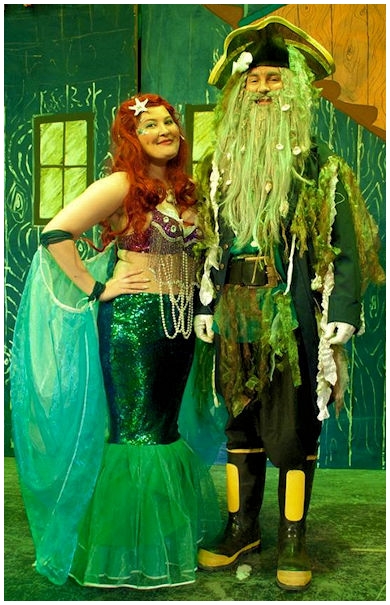 Kennington ADS © Martin Barron
EXCERPT
from Act I Scene 2: On the Way to the Port
© Alan P Frayn
Scenes
(Notes on simplified scenery are also included in the script)
AMATEUR STAGE MAGAZINE WROTE ...
"…Although the occasional script turns up based on the Daniel Defoe story, Robinson Crusoe tends to be one of the more neglected subjects. But as the author rightly reminds us – in an introduction that is a veritable cornucopia of staging and casting information – it has a strong swashbuckling storyline with all the makings of an exciting and modern production, second to none!
Reading his script for the first time is a joy with so much imagination and inventive "theatrical licence" which virtually guarantees, with a fair wind, a smash hit success with children and adults alike. It is all so refreshing and totally lacking in that retro world which can often bog down the more old fashioned pantomimes in a quagmire of tradition, which sometimes needs "geeing up".
It is so inventive – it doesn't start off in one of the traditional Scene 1 settings of Plymouth, Port of Hull or York but – wait for it – Brazil! This, he points out, has the advantage of introducing more vibrant and exotic scenery, costumes and musical numbers than the bog standard old trad pantomime. And it is more in line with the original classic novel, as it was after settling in Brazil that Robinson set sail on that fateful voyage!
He is also quick to point out, early in his introduction, that using this same setting for the finale and walk down gives the director and choreographer the opportunity to create a great Mardi Gras finale.
I don't want to give it all away in a short review. Mr Frayn has written four packed pages of a preface which takes the would-be director through all the steps which give him or her one of the most enjoyable and novel pantomimes in an exciting modern structure, which loses nothing of the underlying great pantomime tradition.
It would be a pity not to read it if you are looking for that extra element of a strong exciting story coupled with quite exotic settings and costumes – all of which can be geared to fit the financial parameters or every size of company."