At last, a modern pantomime re-telling of this famous title, with loads of new ideas and ratty mayhem!
Fancy a less commonly performed pantomime, but still with the appeal of a famous, traditional title? Then look no further than this cracking new version of the Germanic tale! True to its roots in folklore, but packed full of up-to-date comedy, this is "much more of a panto" than most other versions.
Sour-Kraut (the Witch) and Rat-Worst (the Chief Rat) battle it out against Fairy Strudel and a host of comical characters, including Dame Helga Von Trump (the local sausage maker). Some unusual scenes include Helga's pig farm and a hilarious sausage cooking routine.
There's plenty for the Chorus and Dancers to get their teeth into, particularly the junior members, who are piglets in one scene and also get to play the rats and the young townsfolk, who are spirited away by the Piper. What's more, most groups will be pleased to hear that very few men are required among the principals.
Full cast and scenery requirements are listed below
Many productions of this script have won NODA and drama federation awards, including Spittal Variety Group (NODA "Best Pantomime")!
"...
This was a show big on laughs, as the cast squeezed every last giggle from gags about rats, the German language, sewage and enormous sausages! This was Seaton's biggest, boldest, funniest panto yet and though no rats or children were harmed in the production, many an audience member split their sides." (View News Devon)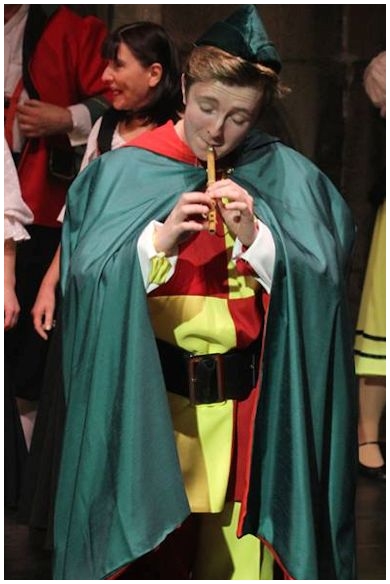 Minehead Panto People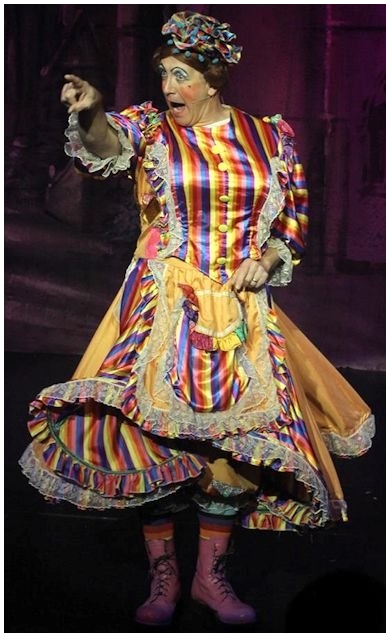 Minehead Panto People
EXCERPT
from Act I Scene 1: The Town Square
© Alan P Frayn
Scenes
(Notes on simplified scenery are also included in the script)