A very creative adaptation, full of artistry and magic, re-awakens this tale-of-old, with bucket-loads of comedy!
For a great traditional pantomime, but a refreshing break from the more conventional format, this cracking new version of Sleeping Beauty is right on the money!
An extra-large portion of comedy and some very original twists and turns along the way make for a novel and artistic production. The storyline is cleverly managed and the common imbalance between Act I and Act II content has finally been resolved!
Nurse Hettie Harpic, the puddle-brained Muddles and two hapless heralds, Fetch and Carrie, ensure the laughs come thick and fast, especially when they meet head-to-head in a hilarious schoolroom scene. With generous possibilities to keep the Chorus busy, there are also more principal roles for females than the norm.
Whilst there are lots of opportunities and suggestions for the more ambitious, it can be staged effectively with a minimum of scenery.
Full cast and scenery requirements are listed below
Many productions of this script have won NODA and drama federation awards, including Little Hallingbury Panto Group, Market Drayton AO&DS, The Bolsover Drama Group, Saundersfoot Footlights and NOMADS, Newmarket (all of whom won NODA "Best Pantomime" awards)!

"...
Sleeping Beauty was a triumph. With an up-to-date script from Alan Frayn a scintillating show has evolved in this fun-filled, scrumptious slice of panto magic!" (Cornish Guardian)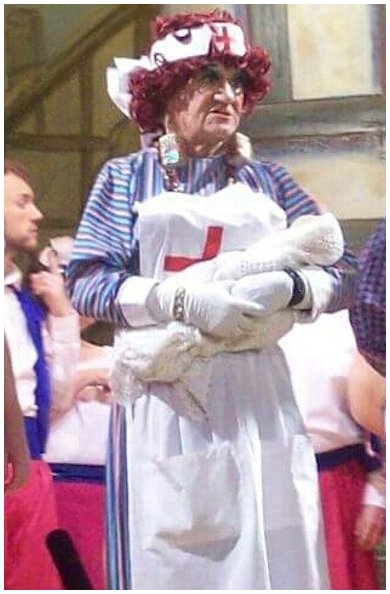 St Giles Pantomime Society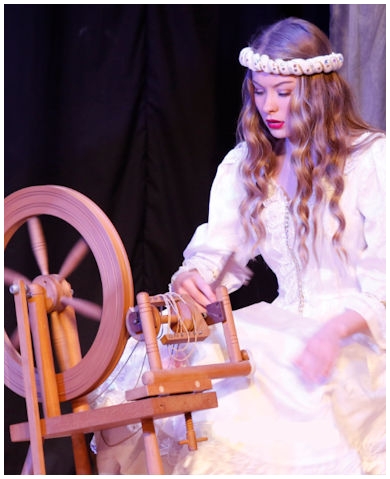 Peterston Entertainment Society
EXCERPT
from Act II Scene 2: The Forgotten Room
© Alan P Frayn
Scenes
(Notes on simplified scenery are also included in the script)
AMATEUR STAGE MAGAZINE WROTE ...
"...It would be unfair to dedicate a disproportionate amount of space to one publisher and writer ... (following a long review of Robinson Crusoe & the Pirates in the same issue) ... and yet, by the same token, I cannot let this second "hot off the press" adaptation of one of pantomime's most difficult subjects pass without some introduction.
It is a traditional story which demands a totally imbalanced cast (as compared to any other pantomime). Because the story starts at the birth of the Princess and no less than 18 years pass in the first six scenes, we don't meet the Principal Girl until Act I Scene 5 and, inevitably, by the same token, we only meet the Principal Boy a scene later, making both of these "leading" roles much smaller than usual. On the other hand, Frayn has realised that such a constraining original story makes it possible to provide much meatier roles for the other characters and, in his version more principal roles for women than for men.
Once again he provides copious production notes in his five-page preface. And one thing impressed me more than almost anything else – he has truly beaten the curse of the common imbalance between Act I and Act II – read the introduction to see what I mean."