Snow White & the Seven Dwarfs
The classic story is brought to life in true pantomime style, refreshed and enriched with laugh upon laugh!
Brimful of comedy, this hilarious new version takes some beating! Original material and inventive ideas live hand in hand with the traditional story and essential pantomime fun.
The Seven Dwarfs, often (but not always) played by children, have distinct comical characters, each providing a small speaking role, ideal for youth theatre groups, dance academies or societies wishing to nurture young talent.
A brand new, original comic two-some, Justice Quill and his idiotic scribe, Scribbles (acting as legal advisors to evil Queen Avarice) add to the hilarity, irony and anarchy whilst, unusually for this title, there are stacks of optional possibilities to feature the Chorus.
Cleverly avoiding the need for a large number of scene changes, this script lends itself to straight-forward staging, whilst offering boundless opportunities for the more ambitious.
Full cast and scenery requirements are listed below
Many productions of this script have won NODA and drama federation awards, including Wickham Bishops Drama Club (NODA "Best Pantomime")!
We also offer a version of this script for schools or youth theatre groups (slightly simplified and with added lines for Chorus members). For a
Reading Copy
of this, please select Snow White & the Seven Dwarfs and specify "youth version" in the message box on the order form.
"...
This is about as good as local family pantomime can get, its witty script peppered with one-liners in a crackingly paced favourite, written with flair by A P Frayn. Pantostatic!" (Southern Evening Echo)
New Mills AO&DS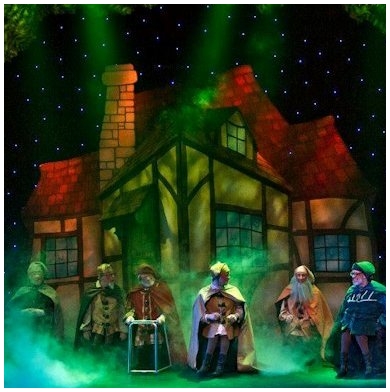 Friendship Theatre Group
EXCERPT
from Act II Scene 1: The Dwarfs' Cottage
© Alan P Frayn
Scenes
(Notes on simplified scenery are also included in the script)