Ali Baba & the Forty Thieves
Full of Eastern promise, this inventive new version brings Ali Baba well and truly into the world of pantomime!
One of the less commonly performed panto titles, this innovative script makes new footsteps in the sand, whilst firmly embracing the spirit of the original Arabian Nights tale.
The riveting storyline, along with heaps of comedy, spectacle and traditional business are sure to enthrall young and old alike.
There are many strong character parts, including Dame Fatima Fandango (a former belly dancer), whilst the Chorus are kept very much involved, having the opportunity for some character acting and rousing numbers as the Thieves.
This exceptionally witty script also includes a very original ultra-violet scene (optional) and has proved itself to be remarkably flexible. Whilst it has been performed many times in village halls, there's plenty of scope for the more ambitious to get their teeth into. One production reached an audience of over 60,000 and had 3 live camels on stage!
Full cast and scenery requirements are listed below
Many productions of this script have won NODA and drama federation "Best Pantomime" awards!
We also offer a "larger cast" version of this script with 3 Hand Maidens to the Princess (small speaking parts), plus another slightly simplified version for schools or youth theatre groups (needing only 2 full stage scenes). Both these versions also have additional lines for Chorus members. For a
Reading Copy
of either of these alternative versions, please select Ali Baba & the Forty Thieves and specify the version you require in the message box on the order form.
"...The show was an imaginative tour de force from beginning to end. They were still laughing at the quips and chuckles in Alan Frayn's script as they left the theatre. There was simply no end to the fun. Absolutely awesome!" (The Hayling Islander)
Talisman Theatre Co © Peter Weston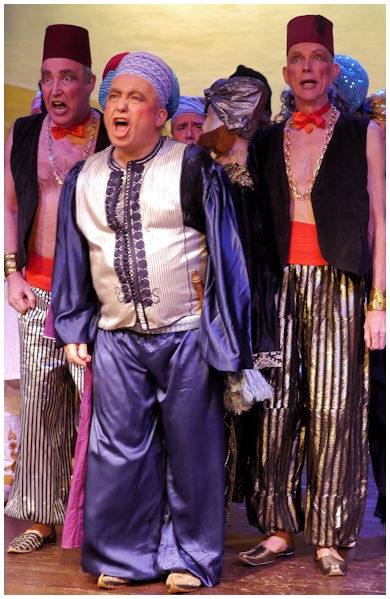 Wargrave Theatre Workshop
EXCERPT
from Act I Scene 3: A Clearing in the Forest
©
Alan P Frayn
Scenes
(Notes on simplified scenery are also included in the script)
A VIEW FROM DOWN UNDER ...
"…It is extremely difficult to find a script that will accommodate a cast of over 150 students and we were very fortunate to discover the work of the very talented Alan P Frayn for the first time in 2015. Alan was extremely generous with his time in customising the existing script for Ali Baba and the Forty Thieves to incorporate a number of additional characters and in helping us to "Australianise" the local references to make sense for our audience here in Tasmania. Ali Baba and the Forty Thieves was an outstanding success and we received fantastic feedback about the production, in particular the quality of the script."
(Ben Lohrey, Burnie High School, Tasmania)
"…The Fatima Kitchen scene was one of the best comedy sketches I've seen in musical theatre for years!"
The Advocate Newspaper, Tasmania