Robin Hood & Babes in the Wood
A fresh take on this classic combo of two famous tales, packed with adventure and laughs aplenty!
Legend combines with rip-roaring comedy as Robin and his trusted band of Merry Men try to outfox the baddie we love to hate – the Sheriff of Nottingham. Meanwhile, Nurse Nellie Nickerlastic is desperately trying to protect the Babes from the clutches of the Sheriff's bungling henchmen, Snivel and Grovel.
It's fun and frolics all the way with a hilarious schoolroom scene, not to mention the mayhem of Nellie's haunted boudoir! Cram-packed with comedy, this true pantomime version offers oodles of Chorus involvement, audience participation and honest-to-goodness family fun!
Full cast and scenery requirements are listed below
Many productions of this script have won NODA and drama federation awards, including The Performing Arts Company and Spittal Variety Group (both of whom won NODA "Best Pantomime" awards)!

We also offer a "larger cast" version of this script with 2 additional Merry Men (1 male + 1 female). For a
Reading Copy
of this, please select Robin Hood & Babes in the Wood and specify "large cast version" in the message box on the order form.
"...
If daft humour is your thing (like it is mine), then Ovingham Drama Group's take on the classic tale of Robin Hood scores top marks. This production was a laugh a minute with constant one-liners throughout the pantomime. Robin Hood & Babes in the Wood by Alan P Frayn was a rip-roaring triumph." (Hexham Courant)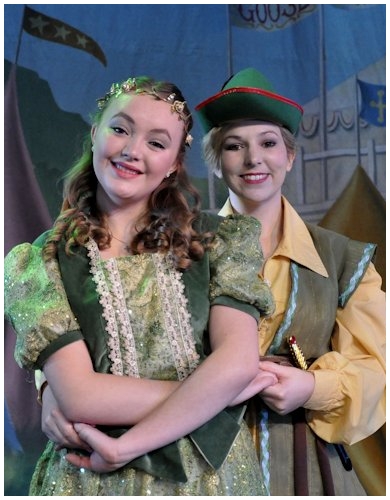 Frome Musical Theatre Co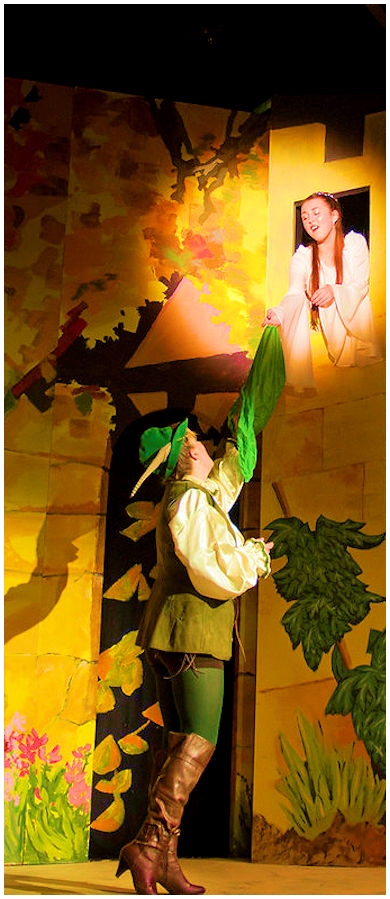 Sinodun Players
EXCERPT
from Act I Scene 3: Inside Nottingham Castle
© Alan P Frayn
Scenes
(Notes on simplified scenery are also included in the script)
AMATEUR STAGE MAGAZINE WROTE ...
"...The stories of Robin Hood & Babes in the Wood are often combined and this gives the author ready-made heroes and villains from the first and victims from the second. The author is taking nothing for granted and carefully establishes each of the characters.
Our Dame arrives in the form of Nurse Nellie Nickerlastic and she is appointed to look after the Babes, Sam and Ella. The village has been without a teacher for the last 10 years, so Nellie assembles a class of everyone who hasn't been educated. This permits us to have a schoolroom scene where the puns come thick and fast.
There is much in this script to recommend it. I particularly enjoyed the business of the Sheriff's henchmen, Snivel and Grovel, trying to blow up the safe and there is plenty of action and audience participation to keep even the youngest children happy. It is a complete script with detailed stage directions and suggested songs and this is a fine telling of this composite story."