Hansel and Gretel … Hot off the press, our brand new 20th panto!
Not before time, a sparkling, up-to-date pantomime version of this heart-warming tale
By popular demand, with so many groups saying, after years of searching, they've been unable to find a modern, funny pantomime version, Hansel and Gretel is finally brought into the 21st Century with this exciting new script!
Laughter is high on the agenda with some unusual comedy routines, together with plenty of adventure, variety and traditional panto fun.
Can Bluebell, the Fairy of the Forest, manage to rescue Hansel and Gretel before they are eaten by Nightshade, the Wicked Witch of the Woods, who is determined to turn the tables this time and finally get her way? Meanwhile, the comic twosome, Nut-Meg and Basil, add to the turmoil when they try to sell all sorts of foolish food and fake fare foraged from the forest!
There's plenty of involvement for the Chorus and Dancers, who have a total of up to 10 identities between them. And whilst it can be staged in a very straight-forward way, the more ambitious can really go to town on some of the scenes – in particular, the Sugar Candy Cottage (exterior and interior).
Despite having the benefit of such a well-known title and storyline, Hansel and Gretel certainly hasn't been "done to death" as a pantomime, so this panto-tastic script has everything going for it!
Full cast and scenery requirements are listed below
"…They zipped through the Hansel and Gretel tale, offering up a few alternative twists along the way, as our heroes disappeared deeper and deeper into the forest." (Quest Media Network)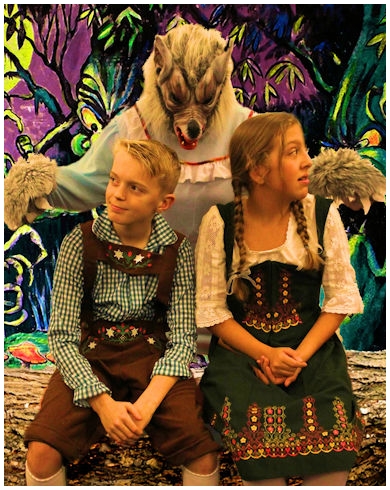 Minehead Panto People
Burnie High School, Tasmania
EXCERPT
from Act II Scene 7:
Deadly Nightshade?
© Alan P Frayn
Scenes
(Notes on simplified scenery are also included in the script)