A magical journey through the world of pantomime, ideal for an anniversary production or simply for a refreshing change!
For an anniversary year, a gala production, or simply something out of the ordinary, this "celebration of pantomime" could be just what you're looking for!
Our story starts in the Land of Make Believe, the home of all panto folk, from where Poison Ivy, the Wicked Witch, banishes some of our friends. Finding their memories have been wiped, and with the help of Fairy Honeysuckle, they "try out" the characters in 6 different pantomimes, one per scene, in their quest to find where they belong.
This innovative concept offers far more variety and interest value than any individual pantomime, for both audience and cast alike! It can be staged very symbolically, but there are plentiful opportunities and suggestions in the script for the more ambitious.
Full cast and scenery requirements are listed below
Many productions of this script have won NODA and drama federation awards, including Plumpton Pantomime Society and St Cuthbert's ADS (both of whom won NODA "Best Pantomime")!
"...
One of the best Christmas productions I have seen for many years, written and directed by Alan Frayn. It features scenes from several well-loved pantomimes and children's stories. Cinderella is the finale, in which the characters complete their quest for true happiness and fulfilment, despite the efforts of the Wicked Witch and her assistant, Wizbad. In nearly 30 years of reviewing, I cannot remember using so many superlatives to describe one show." (The Stage Magazine)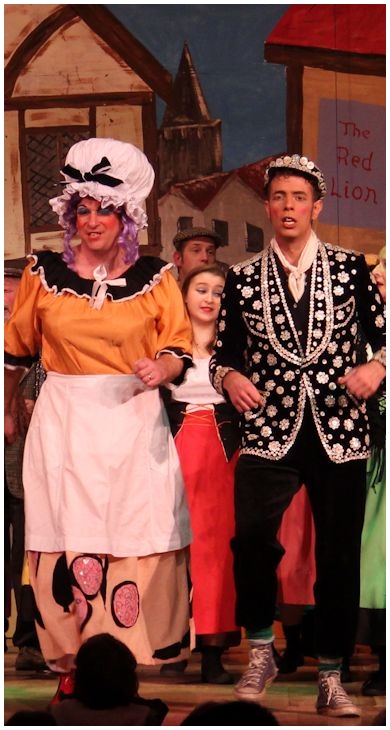 Plumpton Pantomime Society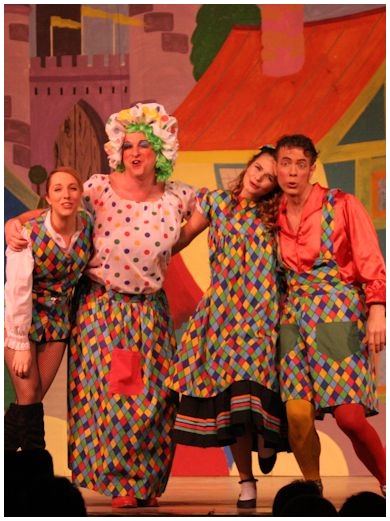 Plumpton Pantomime Society
EXCERPT
from Act I Scene 1: The Land of Make Believe
© Alan P Frayn
AMATEUR STAGE MAGAZINE WROTE ...
"...The premise of this pantomime amalgam intrigued me considerably. A group of four standard pantomime characters - the Dame, Principal Boy, Principal Girl and the helpful but inept Simpleton, are tricked out of their home in "The Land of Make Believe" by the Evil Witch, losing their memories in the process. They then have to assume the lead roles in a succession of traditional panto vignettes in order to re-establish their identities.
They work their way through versions of Sleeping Beauty, Aladdin, Dick Whittington, Jack & the Beanstalk, Snow White and Cinderella before recovering their memories and their true identities. The various scenes are all linked by the continued machinations of the Evil Witch and her hapless assistant.
I found that the script flows well and audiences will all instantly recognise the familiar mini-pantos portrayed. The characters too are easily recognisable by their dialogue and actions and there are some genuinely funny lines. Overall, this is a clever script which will certainly appeal."
A VERY UNUSUAL MENTION ...
"…That this House congratulates the Gatwick Airport Pantomime Society in its 20th anniversary year of performances and delighting packed houses with their production of 'Adventure in Pantoland' while raising £299,000 since 1990 for 45 Surrey and Sussex charities and Great Ormond Street Hospital; recognises that the cast and crew are made up of British Airways aircrew giving of their time and talent to support worthy causes."
Early Day Motion, Parliamentary Business, 8 February 2010
Re Gatwick Airport Pantomime Society's 20th anniversary production