Refreshingly new, this laugh-a-minute version adds another dimension to the great panto classic
This very original and funny script provides all the necessary ingredients for a first-class and spectacular production of this famous oriental rags-to-riches tale.
Bursting with comedy and visual business, courtesy of Widow Twankey, Wishee Washee and the two Chinese Policemen (Yu-Dun-Wong and Hu-Dun-Pong), this sensational script provides ample opportunity for audience participation, slapstick mayhem and traditional pantomime fun.
The text also contains a well-described, unusual ultra-violet scene (optional) transforming Aladdin's journey from China to Egypt into a magical and colourful fantasy. The staging can be relatively uncomplicated, but the sky's the limit for the more ambitious!
If you're ready to embark upon an unforgettable journey into the Land of the Magic Lamp, let this "in-genie-ous" script make your wish come true!
Full cast and scenery requirements are listed below
Many productions of this script have won NODA and drama federation awards, including New Mills AO&DS, St Stephen Pantomime Company, STARS (Darlington) and Paignton Pantomime Productions (all of whom won NODA "Best Pantomime" awards)!
We also offer a version of this script for schools or youth theatre groups (slightly simplified and with added lines for Chorus members). For a
Reading Copy
of this, please select Aladdin and specify "youth version" in the message box on the order form.
"...Aladdin had all the ingredients for a fun-filled and entertaining pantomime. There were jokes galore, audience participation aplenty and a vibrant mix of singing and dancing." (Northumberland Gazette)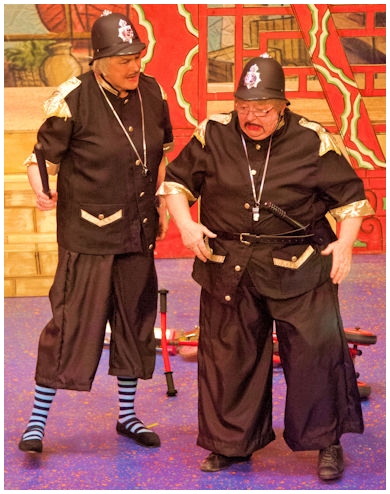 Mansfield HTT © Redbutton Photography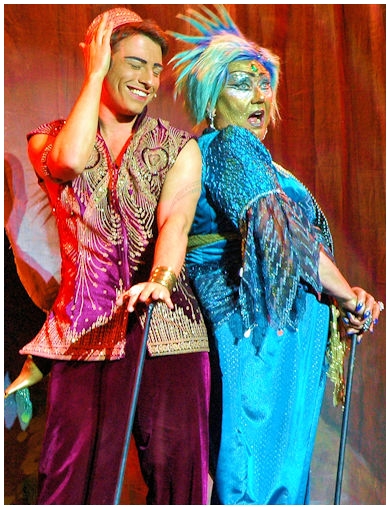 New Mills AO&DS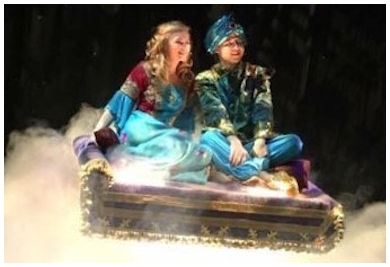 Corby ATS
EXCERPT from Act I Scene 5: Twankey's Takeaway © Alan P Frayn
Scenes
(Notes on simplified scenery are also included in the script)