Combining the fairy-tale enchantment of Cinderella with hilarious comedy, this outstanding script has it all!
Big on laughs, but true to form, this imaginative new version has won numerous awards and is, without doubt, one of the most popular panto scripts of this millennium.
Many strong traditional character parts are provided, including a delightful Cinderella, a particularly endearing Buttons and outrageously funny Ugly Sisters! Yet more chaos and laughter ensues when two comic builders, Bodget and Leggett arrive to re-develop Hardship Hall, whilst Hagan the pantomime horse (optional) provides a novel twist.
With loads of originality, audience participation, slapstick routines and traditional business, this superb script also allows much scope for the more ambitious company.
Full cast and scenery requirements are listed below.
Many productions of this script have won NODA and drama federation awards, including DE Caversmill Theatre Company and Godalming Theatre Group (NODA "Best Pantomime"), plus Paignton Pantomime Productions and Oddity Theatre (both of whom won "Best Pantomime" out of the whole NODA South West Region)!
We also offer a version of this script with a Haunted Boudoir Scene for the Ugly Sisters in place of the optional slapstick Decorating Scene, plus another "smaller cast" version without the Broker's Men. All versions are also available without Hagan the Pantomime Horse. In addition, there is another "potted panto" (one act) version of this script for a cast of 10. For a Reading Copy of any of these alternative versions,
click here
and select Cinderella and specify the version you require in the message box on the order form.
"...
A sense of unabashed fun oozed from every line. The whole production went at a cracking pace and the Ugly Sisters were staggeringly OTT and screamingly effective without being crude or limp-wristed." (Eastbourne Herald)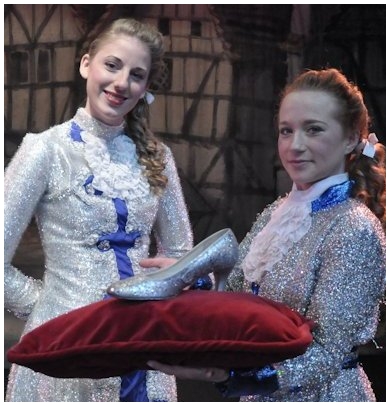 Frome Musical Theatre Co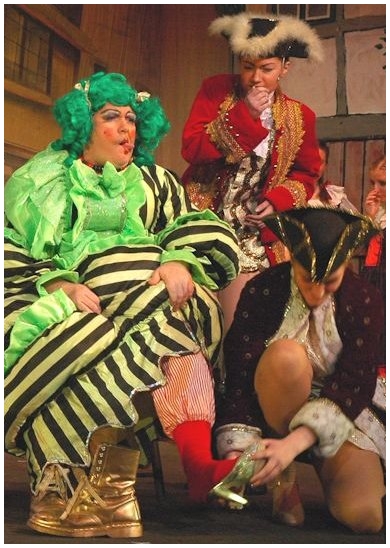 New Mills AO&DS
EXCERPT from Act II Scene 1: The Palace Ballroom
© Alan P Frayn
Scenes
(Notes on simplified scenery are also included in the script)