Myth, legend and fantasy combine in this spellbinding story, told in true pantomime tradition.
She sweeps through the streets on snowy nights, looking in at the windows, her breath leaving strange icy patterns on the glass. "Yes, I've seen them", says Gerda, but little does she know her best friend, Kai is about to be spirited away to the evil Snow Queen's Ice Palace.
And so, as the spring thaw arrives, Gerda's quest begins – an adventurous journey from Denmark to the frozen north, passing through every season and encountering a host of colourful characters on the way, thus providing more smaller roles and Chorus parts than any other script in this series.
A true pantomime rendition, unusual for this title, ensures traditions are upheld, whilst encompassing plenty of laugh-out-loud comedy moments!
Full cast and scenery requirements are listed below
Many productions of this script have won NODA and drama federation awards, including Cloverleaf Productions, who won both the Somerset Federation of Drama "Best Pantomime" awards (Best Overall Panto and Best Village Panto) which had never been done before!
"...
The funny, pacey, inventive Alan P Frayn script fitted this talented cast to a tee – funny, original and pleasingly different from the standard fayre on offer during pantomime season. The insertion of many slightly whacky additions raised the level even further in this production, delivered by a cast who looked like there was nowhere on earth they would rather be. Wow! What a show!" (SFD Spotlight Magazine)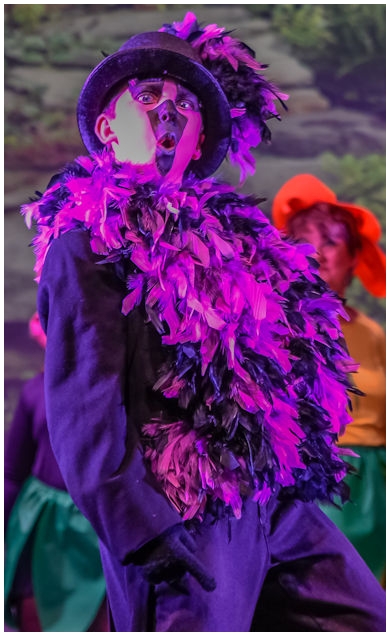 Seaton Gateway Panto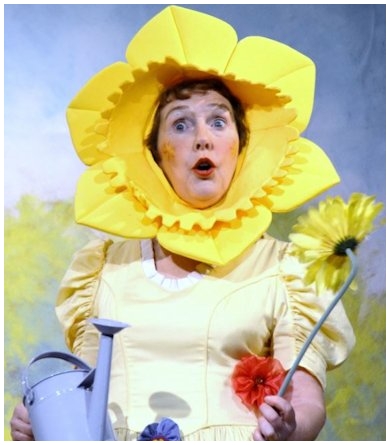 Peterston Entertainment Society
EXCERPT
from Act I Scene 7: The Spring Flower Garden
© Alan P Frayn
Scenes
(Notes on simplified scenery are also included in the script)
AMATEUR STAGE MAGAZINE WROTE ...
"…The Snow Queen is faced with a catastrophe of the modern age – global warming. As someone who would like it to be winter all year round, this is a disaster and she instructs the audience that they must not, under any circumstances, mention global warming in her presence. This is almost guaranteed to ensure that they shout it out every time she appears on the stage!
Hans then takes up the story. The Snow Queen's tears of anger freeze and form an icy lens through which she can view the world, but she is so evil that the tears have produced a distorted view and she sees only the worst in everything. But then there is a terrible storm and the icy lens smashes into a thousand pieces that swirl around in the wind.
Gran's granddaughter is Gerda, whose best friend, Kai, gets one of the fragments from the lens in his eye. Gerda goes off to find him … then Gran and Gerda's dimwit cousin, Helmut, set off to find Gerda! They are all aided by a raven called Caw, who has endless delicious puns based around his name, and they all pass through a Swedish hippy commune before reaching the Snow Queen's Palace. They succeed in melting the Snow Queen's heart and we can be assured that everyone will live happily ever after.
I enjoyed this script very much. It is well-written with plenty of puns and silliness for the little ones, but with plenty to amuse the adults as well. The author has resisted the urge to use double-entendres to please the grown-ups but has, instead, created some genuinely funny situations – the hippy commune being particularly good. There is even an educational element amongst all the high jinks, so this really is a panto that has everything!"
SOMERSET FEDERATION OF DRAMA REPORTED …
"…At award evenings there are expectations, occasionally there are a few surprises, and once in a while there is a seismic shock! Saturday night's Cinderella Trophy Awards ceremony contained just such a shock as Cloverleaf Productions, in one of the smallest venues on the circuit, scooped the top prize – The Cinderella Trophy itself – for their hilarious rendition of The Snow Queen written by Alan Frayn.
They also won the Spotlight Shield, which is only open to village societies and this would have been an accolade in itself, which deemed them to have staged the best village pantomime in all of Somerset. For them to have gone on to also win the top award – knocking Taunton's Wayfarers fantastic performance of Robinson Crusoe and the Pirates (also by Alan Frayn) into the second slot – is a huge achievement! This year's production was hilarious, with the audience laughing from start to finish!"